오렌지큐브 게스트하우스 숙박객 알리 & 샤샤의 이메일 인터뷰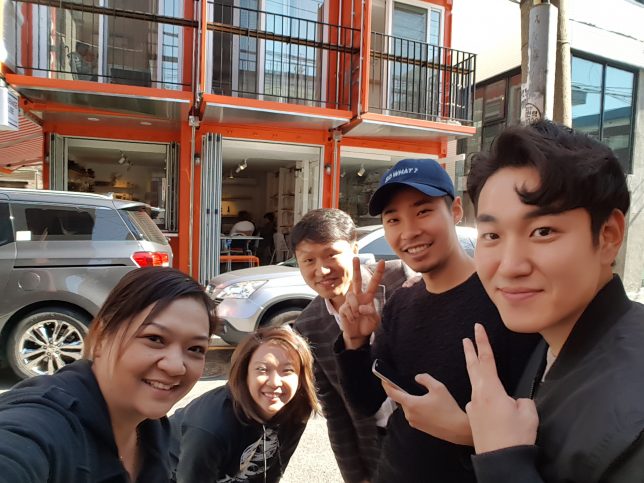 "컨테이너로 지은 건물에서 지낸다는 건 매우 독특한 경험이었다. 하물며 건물을 설계하고 디자인 한 건축가가 호스트라니, 정말 흥미로웠다."
알리(Allie Lim)와 샤샤(Shasha Ahmad)는 싱가포르에서 산다. 친구인 둘은 지난해 가을 한국에 함께 여행을 왔다. 인터넷 검색으로 숙소를 찾던 중 우연히 만난 '오렌지큐브'. 눈에 확 띄는 오렌지색에다 컨테이너 박스로 만든 집이라는 데 호기심이 발동해 예약을 했다. 오는 길까지 친절하게 안내해주고 숙박 내내 꼼꼼하게 챙겨줬던 게스트하우스 호스트가 이 건물을 설계한 건축가일 줄이야. 숙소 내에 있는 목공의자도 곽대원 소장의 작품이다. 외관 못지않게 오렌지큐브 안에 자리잡고 있는 각각의 요소들이 그들에게는 재미있는 체험이 됐다. 오렌지큐브에서의 경험은 그들에게 한국이라는 나라에 대한 새로운 인상을 심어줬다.
Allie Lim and Shasha Ahmad, of Singapore, visited Korea last autumn. Scrolling through options on the internet for a place to stay, the two friends happened upon Orange Cube. They were drawn to the bright orange shipping containers. It never occurred to Lim and Ahmad that the host who kindly guided them to the guesthouse and took care of their accommodation needs would be the building's architect. The wooden chair in their room was also one of Kwak's pieces. Each element inside Orange Cube was as extraordinary as the exterior. The two friends' unique accommodation experience helped give them a fresh new impression of Korea.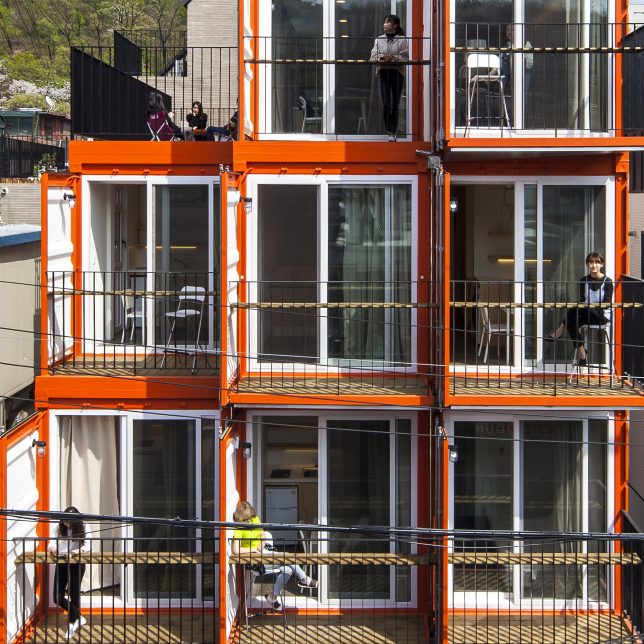 from Allie Lim
How did you know about Orange Cube? (media, friend, searching etc.)
Shasha did a search for place to stay from the search engine. Orange Cube came up from the list via Airbnb link. Out of curiosity, I have checked out the link with the relevant descriptions of the place.
How long did you stay in Orange Cube?
We stayed there from 6 to 10 Oct 2016. That is 4 nights.
Why did you select Orange Cube?
We thought that the concept is interesting & it is spacious. It is also near to the subway. It is our first time staying in a house building from shipping containers. The orange colour building stood out within the stretch of road we were staying at.
What is best experience & worst experience in Orange Cube?
My Korean friend picked me up from the airport & due to the jam on road, I have reached the place later than the expected timing. I have dial the number provided in the Airbnb website which Daewon spoke to my friend to navigate correctly to the place. I was the first to reach before Shasha, Daewon's colleague came out to assist. I visit Daewon & his colleagues the next morning in their work office to thank them for the help on the first night check-in. I am so happy to stay in Orange Cube for the following points:
1) There is a cafe on the ground floor which makes the ambience very chill-out & peaceful. It is a friendly environment for travelers. 2) The craft works are very creative & unique. It is placed nicely on the shelving for people to check it out or for purchase. 3) The photos in Airbnb look exactly the same as what i saw. All the amenities are well stocked. 4) We stayed in a duplex house, the bedrooms on the basement with a narrow spiral stairway connecting to the entrance, restrooms & kitchen. We cooked our meals & hangout by the balcony with some beer over the peaceful neighborhood. 5) It is nearby Hangangjin Station, about 5–8minutes walk connected by a long overhead bridge. There is a Harley Davidson showroom at the main road, further in there is a convenience store, local eateries & independent designers' shops & cafes. It was my 2nd time visiting Seoul to attend a wedding and catching up with some local friends!
Highlights of the trip:
*Lotte World-Folk museum Seoul
*Visit friends that open Keepers Bar (Asia's 50 Best Bars 2017)
*Gangnam: Seafood, sashimi & Live octopus
*Namsangol Hanok Village (Attend my friend's wedding which leaves me very memorable experience to witness the traditional dance)
*Myeungdong (Beauty Products!)
*KINTEX (KABA INTERNATIONAL KOREAN CUP COCKTAIL CHAMPIONSHIP 2016)
*Dongjak-gu district for food & soju with friends
*Gyeongbokgung Palace
*Yeungdongpo-gu district (Favorite street food: tteokbokki!)I had a wonderful experience in this trip with no worst experience which i thank the folks from Design Guild for being a wonderful host to us like helping us to arrange transportation to Namsangol Hanok Village & Brewing craft coffee.
Some information about you.
I am working as a Team Administrator with Diageo from the Singapore technical Center to protect our brands like Johnnie Walker, Sminoff, Gilbey's etc. I love traveling and catch up with my friends across the globe, making new friends & learning about new cultures and way of life. My love for street food is undying which is the most important thing for every travel. #yolo
from Shasha Ahmad
How did you know about Orange Cube? (media, friend, searching etc.)
Allie and I were travelling to Seoul and it was my first time to South Korea. I was searching for available accommodation on Airbnb. As I filtered my search engine, Orange Cube House came up on the list.
How long did you stay in Orange Cube?
We stayed 5 days 4 nights, from Oct 6–10, 2016.
Why did you select Orange Cube?
Orange Cube's listing on Airbnb was quite new at that time. The name and colour of the building stood out. Although their information and reviews were limited, I decided to book anyway, purely out of curiosity because it was built using shipping containers. Personally, I like to pick unique style accommodation and Orange Cube is one of those that I foresee leaving a distinctive memory for me.
What is best experience & worst experience in Orange Cube?
Having Daewon as a host is exceptional. He is truly attentive and knowledgeable. 2 days before we arrive, he sent a "looking forward to your arrival" message to me. On our check-in day, he sent another text message to make sure we were on the right way to Orange Cube. If you need something, not sure how things work in your room or need a taxi, just ask. Daewon and team are always there to assist. Overall, this rare experience to stay in a building made of containers and meeting the person who designed, built and host it is priceless!
Pictures of the building, interior and rooms are accurate and clean. The lobby also displays of his gorgeous artwork, with lingering coffee aroma from their lovely coffee shop. Our duplex unit is located on the 3rd floor where the bathroom and kitchenette is, so our bedrooms were on the 2nd floor. Going down the narrow stairs to our bedrooms was pretty scary at first but you will get used to it eventually. The small kitchenette fits nicely and is useful to cook small meals like kimchi fried rice or omelette. My favourite part is the balcony where I can just relax with my music, a cup of coffee and cigarette. So far, I did not experience anything bad enough to quote as my worst experience. Orange Cube's location sits perfectly in a nice quiet neighbourhood where there are a variety of local designers live. It is very convenient to get to anywhere from Hangangjin Station. From Orange Cube, along the way to the station, there are 2 local restaurants, a cafe, a 24hr mart, Harley Davidson Store, a long pedestrian bridge above a big intersection where you can see N Seoul Tower, and Blue Square performing arts complex.
Highlights of the trip:
As our trip to Seoul was very short, however we managed to visit these amazing places;
*Lotte World: Our own recreational tour
*Myeongdong: Our own shopping tour
*Cheongdam-dong (Gangnam): Visited our Korean friends working at Keepers' (Ranked #47 in Asia's Top 50 Best Bars)
*Namsangol Hanok Village: Attended Allie's friend's wedding
*KINTEX: Attended International Korean Cup Cocktail Competition
*Sadang: Tour with local friends
*Gyeongbokgung Palace: Our own tour
*Yeongdeungpo Market: Our own tour
Some information about you.
I work freelance for some organizations doing Events and Restaurant Operations. I enjoy trying out new things and getting to know people when I travel abroad. I'm also a big fan of 2 Days 1 Night, Gag Concert and The Return of Superman.
ⓒMAGAZINEBRIQUE
CONNECTED PROJECT
글_디자인 길드 Design Guild 섬이었던 북한남동 북한남동은 오랫동안 미동도 없던 주거단지이다. 이 곳에 오면 주변의 이태원과 한남오거리의 번화가와는 전혀 다른 분위기를 느끼게 된다. 지리적으로 보아도 영락없는 […]