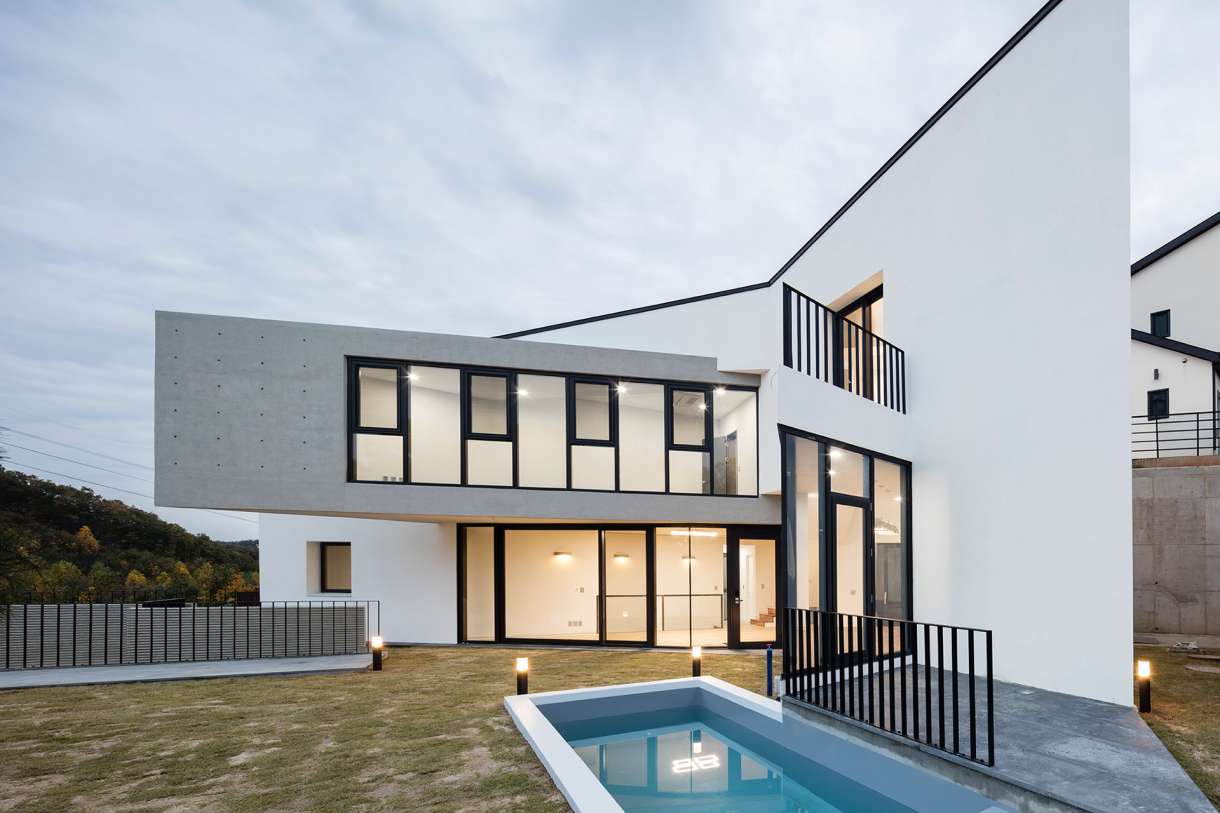 글_에이치에이치 아키텍스 HH ARCHITECTS
남동 나비집은 용인의 전원주택 단지인 라움빌리지내에 40대 초반의 부부가 두 아이들과 함께 마당있는 삶을 꿈꾸면서 시작된 프로젝트이다. 4m 고저차의 경사지를 활용하여 지하에 주차장과 비밀스런 여유공간을 만들고, 앞마당은 최대한 아이들이 뛰어 놀수 있도록 확보하면서 구석구석 마당이 고유의 성격과 기능(텃밭, 미니농구장, 야외수영장, 바비큐장 등)을 가질 수 있도록 했다. 앞마당-수영장-식당-뒷마당으로의 연결은 아이들이 공간을 자유롭게 넘나들 수 있도록 되어있고, 그런 아이들을 항상 부부가 편안하게 바라볼 수 있는 구조이다.
Nam-dong Butterfly House is a project that started in the Raum Village, Yongin housing complex, when a couple early forties dreaming of living in the yard with their two children. Utilizing the slope of the 4m elevation, created parking spaces and secret free space in the basement, the front yard has secured as much as possible for the children to play and furthermore to have every corner its own characteristics and functions (garden, mini basketball court, outdoor swimming pool, barbecue, etc.) The connection to the front yard-pool-dining room-back yard is designed so that the children can freely cross the space, and the husband and wife can always look at them comfortably.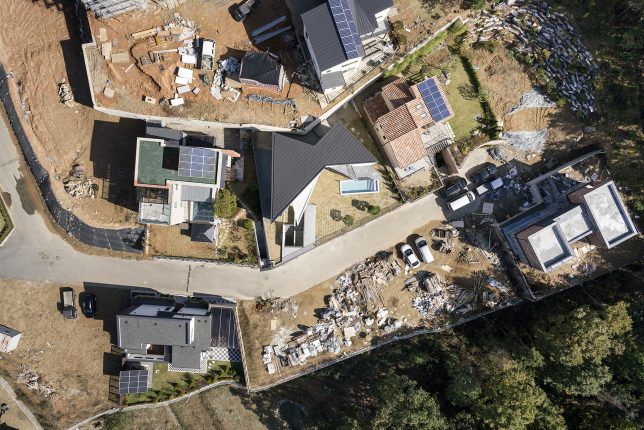 집의 형태는 땅이 생긴 모양과 전망, 남향을 따르다 보니 자연스럽게 두 마리의 나비와 같은 형태를 띄게 되었는데, 뾰족한 형태는 건폐율이라는 면적에 대한 법적 제약을 극복하기 위해 선택된 묘수였다. 이동형 가구를 많이 사용하지 않는 건축주의 성향을 고려했을 때 시각적으로는 공간이 더 확장되어 보이면서 공간적 재미를 주는 방법이었다.
The shape of the house was shaped like two butterflies naturally by following the shape of the land, view, and the southern exposure, the sharp shape was chosen to overcome the legal constraints on the area called floor-area ratio. By considering the tendency of the client who does not use mobile furniture much, it is a way to visually expand the space and to have a spatial fun.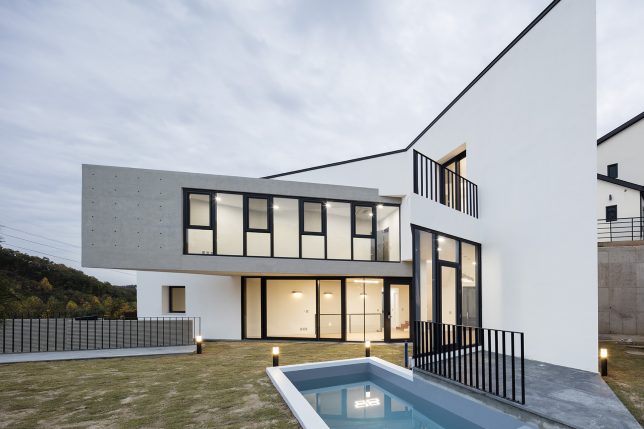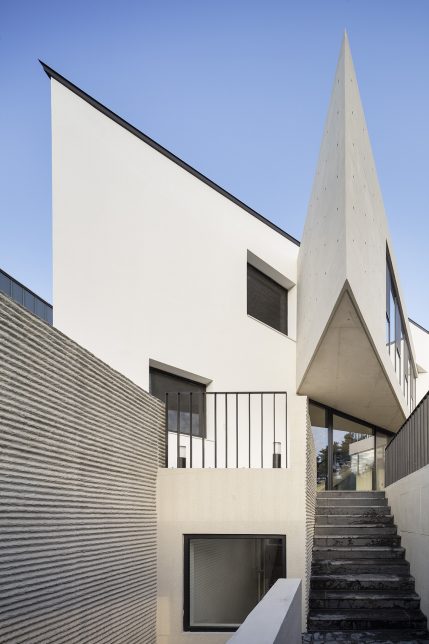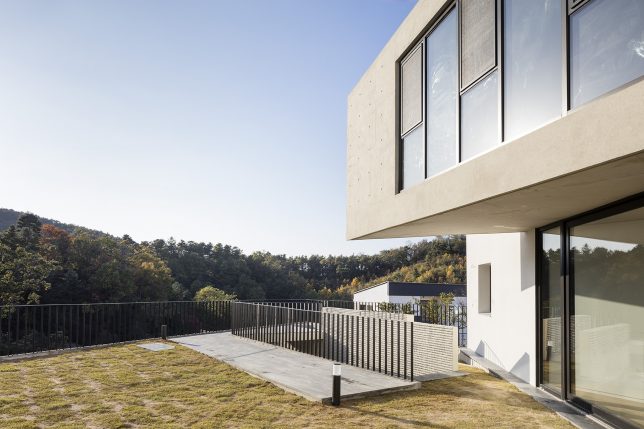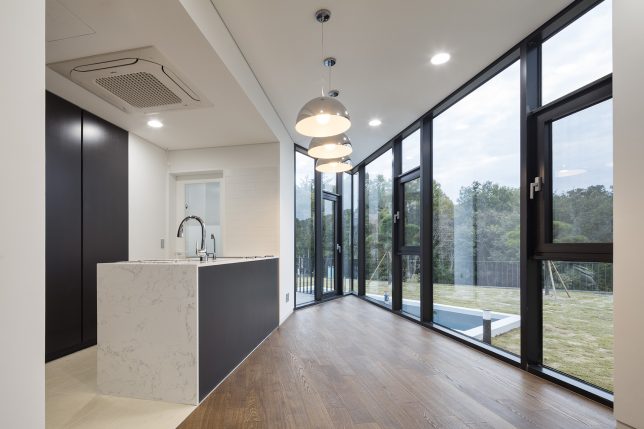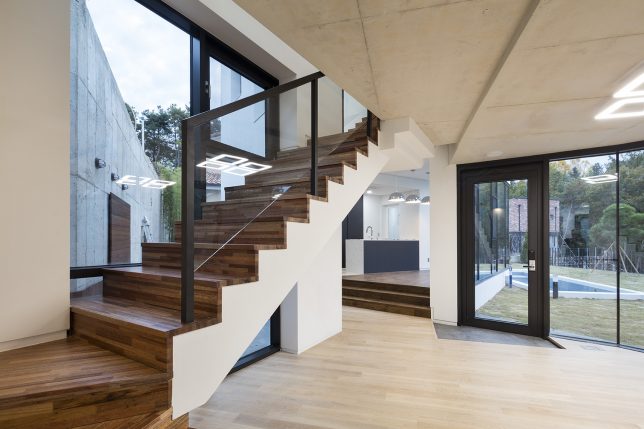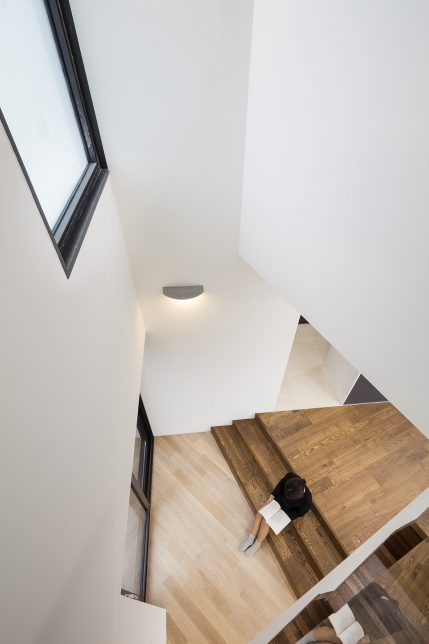 CONNECTED ARTICLE
신이 창조한 세계에 직선은 존재하지 않는다. 직선은 인간의 영역이며 인간은 직선을 창조했다. '자연에는 직선이 존재하지 않는다.' 이 명제를 가지고 두 사람은 정반대의 길을 간다. 한 […]