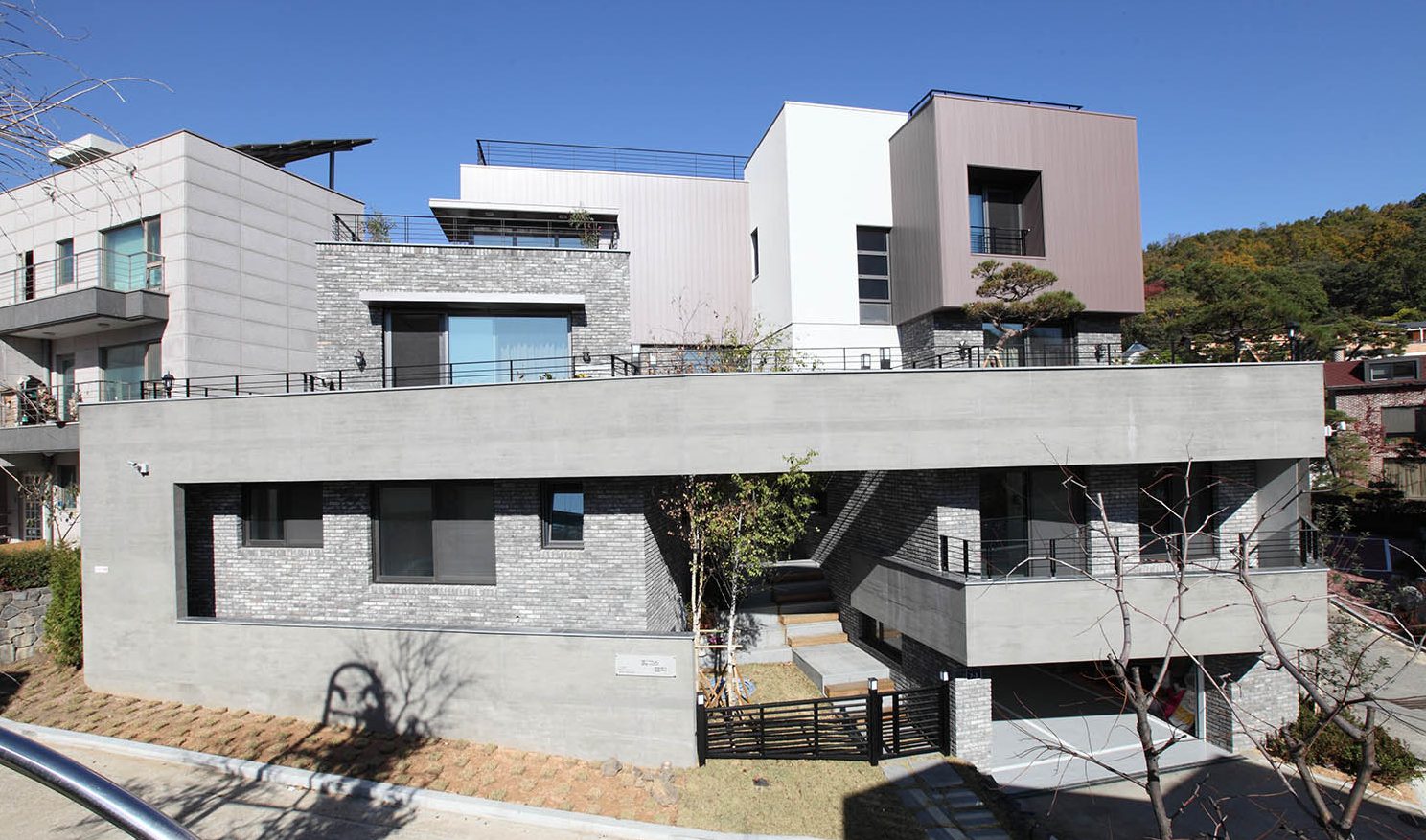 글_유하우스 U-HAUS
"세 가구를 하나로 품어 꿈을 이룬 집."
건축주는 중년 부부로, 도시의 삶에서 벗어나 자연과 어우러지는 넓은 정원이 있는 단독주택을 꿈꾸었다. 부부는 임대세대와 주인세대를 두어 경제성을 고려하면서 더불어 살아가는 특색이 담긴 집을 원했다. 특히 주인세대와 임대세대가 편히 사용할 수 있는 내부 주차장과 각 층에서 테라스를 활용할 수 있는 여유로운 평면을 원했다. 건축주의 요구도 특별했고, 대지의 위치와 형태 또한 그러해 건물의 모습 또한 나름대로의 비범함을 지니게 되었다.
"Embracing three families as one."
Clients were middle-aged couple dreamed of getting out of town and having a life with nature so they wanted their family's house with a large garden. They required house for lease and their family both, considering economic efficiency and also distinctive character about living together. They especially wanted parking area inside the building for convenience and affordable plan by giving terrace in each floor. For the client's requirements and the site's location and its form, the design of the building didn't expect to be ordinary.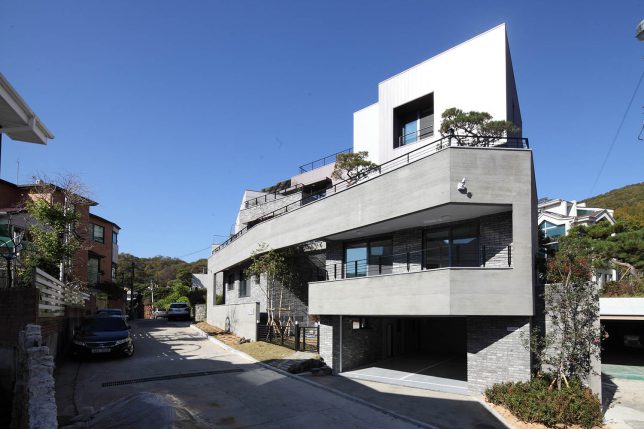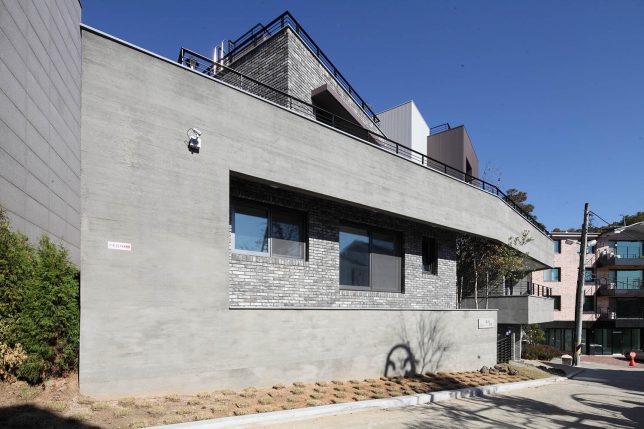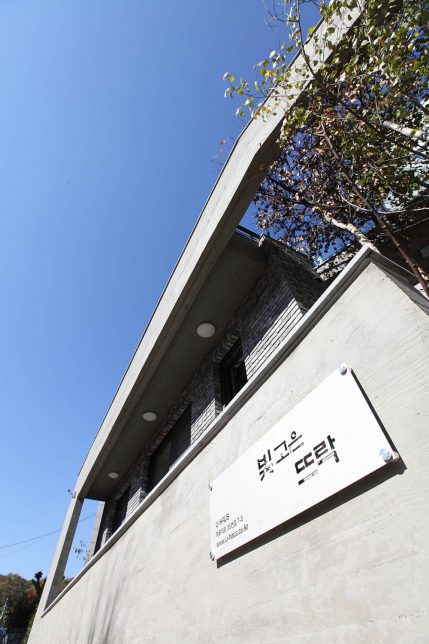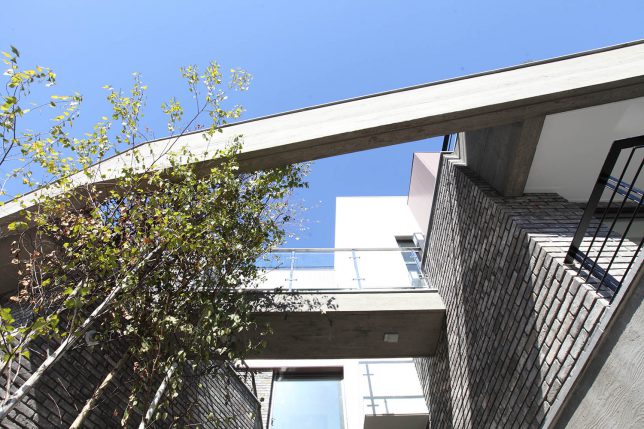 경사지형을 이용해 4대 규모의 공용 지하차고를 설치했으며, 주택 전면부에는 노출콘크리트 가벽을 세웠다. 노출콘크리트 가벽은 좌우로 분리된 두 세대를 시각적으로 묶어내는 일체감을 선사할 뿐만 아니라, set-back되어있는 2, 3층 볼륨까지 받쳐주는 기단으로 역할하며 조형적인 안정감을 준다.
We could arrange underground parking lots that are able to accept 4 vehicles by using slope landform. The front façade is formed with the exposed concrete fake wall. This wall gives the sense of unity as if separated two households are tied together into one and the sense of stability by acting roles as foundation for 2nd and 3rd floor volume which got set-back from south.
지상 부분은 보행과 조경을 위한 공간으로 구성했으며, 임대주택은 중앙 진입로를 기준으로 좌우 각각 한 세대씩 구성되었다. 임대세대 각각 독립적으로 구성된 진입 및 매스 구성을 통해 단독주택의 분위기를 느낄 수 있도록 했다.
Ground level is composed of nature and walking path. Each unit is divided from the center of building and each tenant has their own entrance just like single-family detached home.
2층 거실과 침실에 각각 맞닿아있는 테라스 공간은 브릿지로 연결된다. 한 공간에서 다른 공간으로 이동하는 동선을 통해 마치 산책하듯 동네 풍경을 즐길 수 있도록 했다. 시와 수필을 쓰는 작가인 건축주를 위해 3층에 마련한 서재는 남측 저수지를 널리 조망할 수 있는 테라스와 연결돼 이 집에서 가장 풍요로운 공간이 된다.
Living room and bedroom in 2nd floor have its terrace each and they are connected by bridge in the air. While moving from one place to another, family can enjoy the scenery of the town by taking a walk through this bridge. The 3rd floor has a library for client who writes poems and essay. Connected its own terrace showing south landscape with reservoir gives the richness space in this house.
빛고은뜨락은 3가구가 모여 사는 다가구주택이지만 외관은 마치 단독주택과 같다. 건축주는 단독주택 한 채에서 살 수도 있었지만 이웃과 더불어 사는 삶, 자연의 흐름 속에 녹아드는 삶을 택한 만큼 이 집에서 건축주가 바라던 여유로운 시간들을 이어가길 소망한다.
Sangjeok Garden with Sunshine is multi-family housing for 3 families but it looks like a house for one family. Client would have one single house for her family only but they choose the life with neighbor and the life included in the nature. We hope our client could enjoy each day with calm and relaxing mood that they chose and dreamed of.