글_UAARL 남서울대학교 도시대안건축연구소
이 집은 미대교수인 남편과 부인을 위해 지어졌다. 대지는 북서쪽으로 넓은 경사면과 광대한 조망을 가진 언덕에 위치하며, 남쪽에 인접한 산을 면함으로 계획 시 주택의 향과 조망을 동일한 방향으로 계획할 수 없는 특수한 조건을 가졌다.
부부는 남편의 은퇴 후, 집이 단순히 그들의 거주 목적만이 아닌 다양한 사회활동의 공간적 기반으로 활용되기를 원했다. 이를 위해 부부가 거주하는 본채와 완전히 독립된 별채, 남편을 위한 독립된 서재 및 아뜰리에, 20명 수용규모의 다목적 공간을 요구했다.
The house was designed for a couple. The husband is a college professor at art department. The site is placed on a hillside with a sweeping view and a broad slope to the northwest, and faces a mountain to the south. It poses a particular challenge that the orientation of the house and of the main view cannot be the same.
The couple wanted a place for various social activities and events, in addition to residence, after the husband retires. To do so, they wanted a separate guest house apart from the main house, an independent study-cum-atelier for the husband, as well as a multi-purpose space that can accommodate about 20 people.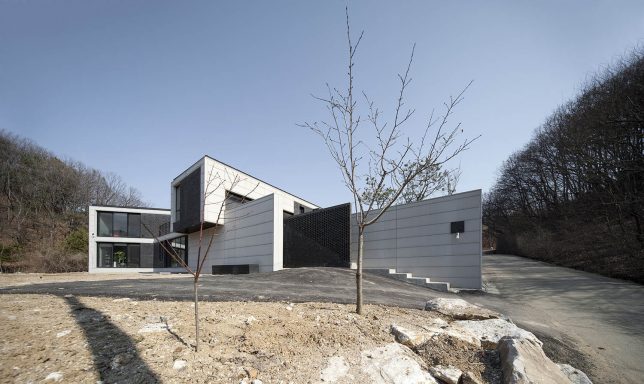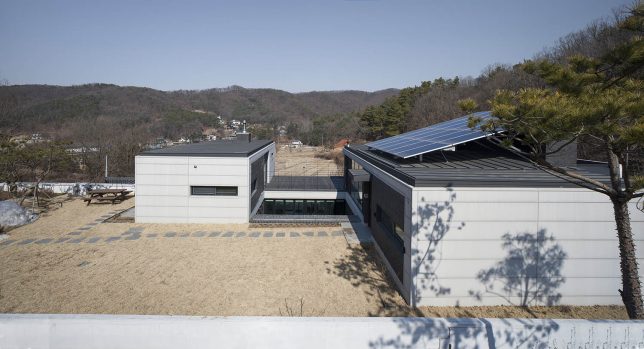 이러한 대지조건과 건축주의 요구사항을 반영해 대지의 경사를 활용한 단면계획을 수립했다. 이를 통해 북서쪽 조망을 극대화함과 동시에 다양한 이벤트를 소화할 수 있는 가변적 공간을 기본 목표로 설정하고 계획했다. 경사를 활용한 상부레벨에 남향을 면한 본채와 별채로 분리된 주거공간을 배치하고, 하부레벨에 둘을 연결시키며 다양한 이벤트를 수용하는 다목적 공간을 만들어냈다.
Considering the site conditions and the couple's needs, we decided to maximize a view to the northwest and design a flexible space to accommodate various events, with a careful section planning. Using the slope, we put south-facing living quarters on the upper level, separated into a main house and a guest house. On the lower level, we designed a multi-purpose room that connects the two buildings.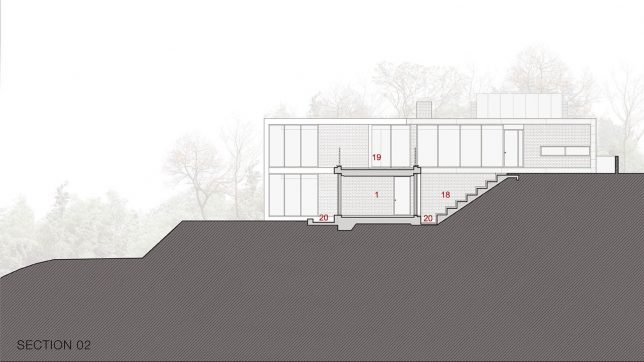 가장 주요한 공간적 장치로 본채와 별채 사이에 하부와 상부레벨에 걸치는 계단식 중정을 제안했다. 이는 주택의 공간적 중심이자 가장 흥미로운 이벤트 공간으로 상하부 레벨을 연계시킴과 동시에 다목적 공간의 확장을 통해 다양한 이벤트를 소화하는 프로그램적 가변성을 확보했다. 또 그 상부에 본채와 별채를 연결하는 전망데크를 두어 이 집이 가진 조망을 극대할 수 있도록 했다.
The most notable spatial feature is a stepped courtyard that spans the two levels, located between the main house and the guest house. This serves as a spatial center of the house, and is the most interesting place. The courtyard connects the upper and the lower levels, and can flexibly accommodate various events. The courtyard is topped by a viewing deck that connects the main house with the guest house, serving as a scenic point of the house with a panoramic view.
외부와 내부의 마감은 짙은 회색톤의 전벽돌과 징크패널, 밝은 회색톤의 베이스 패널을 활용한 무채색의 외피를 구성해 집이 주변 자연환경과 자연스럽게 동화되도록 했다. 내부에도 무채색 계열의 주조색과 자작나무 패널의 자연적 색감을 적용해 무채색인 내부에서 개구부를 통해 외부경치를 담을 수 있도록 계획했다. 내외부의 건축적 요소를 공간적으로 연계시킴으로 외부의 공간이 내부공간으로, 내부공간이 외부공간의 연장으로 인지되도록 해 집의 공간적 스케일을 확장시켰다.
As for finishing materials, dark gray bricks and zinc panels, light gray cement panels were used to create a monochromatic exterior so that the house can naturally blend into the surrounding. Inside the house, also monochromatic colors and natural tone of white birch were used to emphasize the contrast with the surrounding view seen through windows. Architectural elements of the exterior and interior of the house were linked, thereby expanding spatial scope of the house as the exterior space is perceived as an extension of the interior, and vice versa.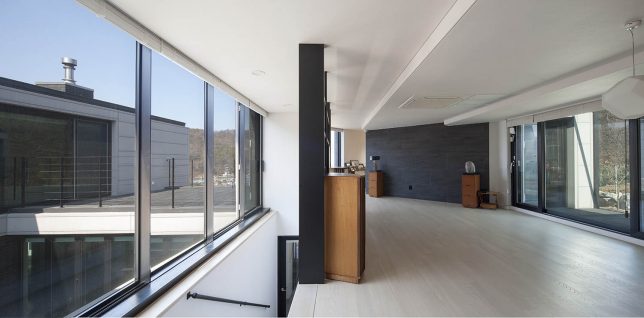 지붕면을 포함한 전체 주택외피에 외단열 시스템을 적용하고, 시스템 창호와 2중 창호를 설치했다. 또 주 난방시스템으로 지열 보일러와 함께 벽난로, 태양광 패널을 도입함으로 주택의 열효율을 높였다. 특히 동절기에 대한 대응으로, 기본적인 남향을 면하는 주거공간, 적정 개구부 계획, 열용량이 큰 외피 재료를 사용했고, 추가로 집 중심에 위치한 전벽돌로 마감된 깊숙한 중정공간에 낮의 열을 저장해 늦은 밤까지 집 전체에 온기를 전달토록 해 난방부하를 절감했다. 또 하절기에 대한 대응으로 다목적 공간 후면과 계단식 중정 사이의 폴딩 도어를 개방함으로 집 중심을 관통하는 벤츄리 효과를 통해 환기를 촉진시키고 수공간을 통한 기화냉각을 도입해 여름철 냉방부하도 줄일 수 있었다.
External insulation was applied throughout the building envelope including the roof, and system windows, double-layered windows were installed. As for heating system, geothermal boilers, fireplace, and solar panels were used for enhanced thermal efficiency. To cope with cold weather in winter, the residential area was put to face the south, and the house was punctuated with proper openings. Also, exterior materials of high thermal capacity were used, and the deep-seated courtyard finished with bricks retains heat during the day and emits warmth late into night, reducing heating burden. To mitigate heat in summer, folding doors were installed between the back of the multi-purpose space and the stepped courtyard, which can be opened to create the Venturi effect for efficient air circulation. Also, vapor-cooling through water areas cools the air and reduces cooling burden during summer.