글&자료. 어반 토폴로지  Urban Topology
두 세대의 다가구주택
판교 K&L 주택은 임대인을 위한 1층, 소유주를 위한 2층과 다락 층 두 세대로 구성된 판교동에 위치한 다가구주택이다. 대지는 약 1m 단차를 가지는 남북으로 좁고 긴 직사각형 형태로, 동쪽 또는 서쪽으로 2.5미터의 공유공개공지를 확보해야 하고, 인접대지경계선으로부터 1m 이격해야 하는 제한조건을 가지고 있었다. 또한 정남방향으로 일조권 사선제한을 적용해야 했다.
K&L House is located in Pangyo-dong as a multi-household residence of two households, consisting of a first floor for the lessee and a second floor and a loft for the owner. The shape of the plot is rectangular with shorter sides facing the south. It has a level difference of about 2.5 meters between the south and the north with an open space restriction on the east or west. The building footprint is to set back one meter from the south property line according to the Pangyo ordinance with a further requirement for the right-to-daylighting restriction.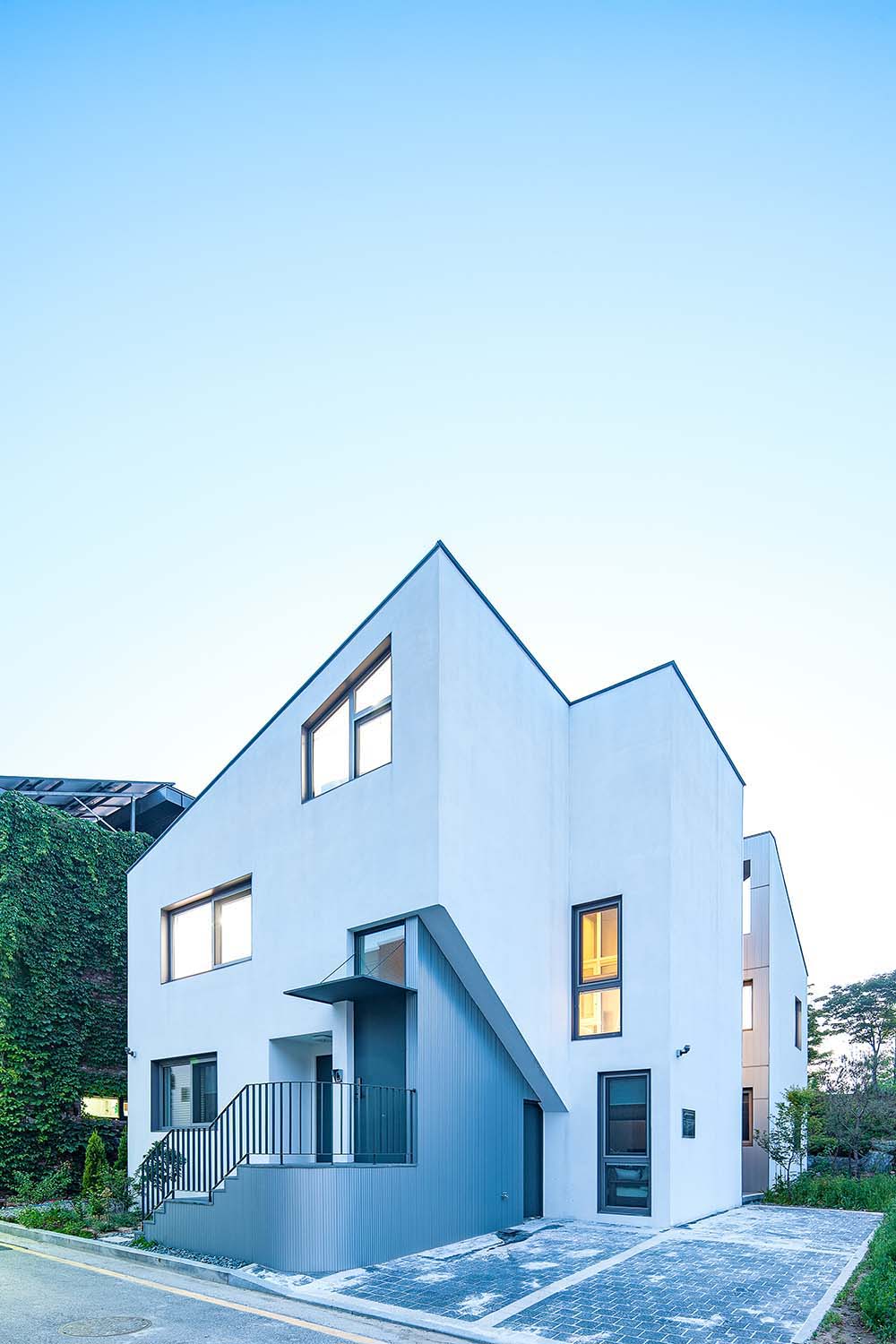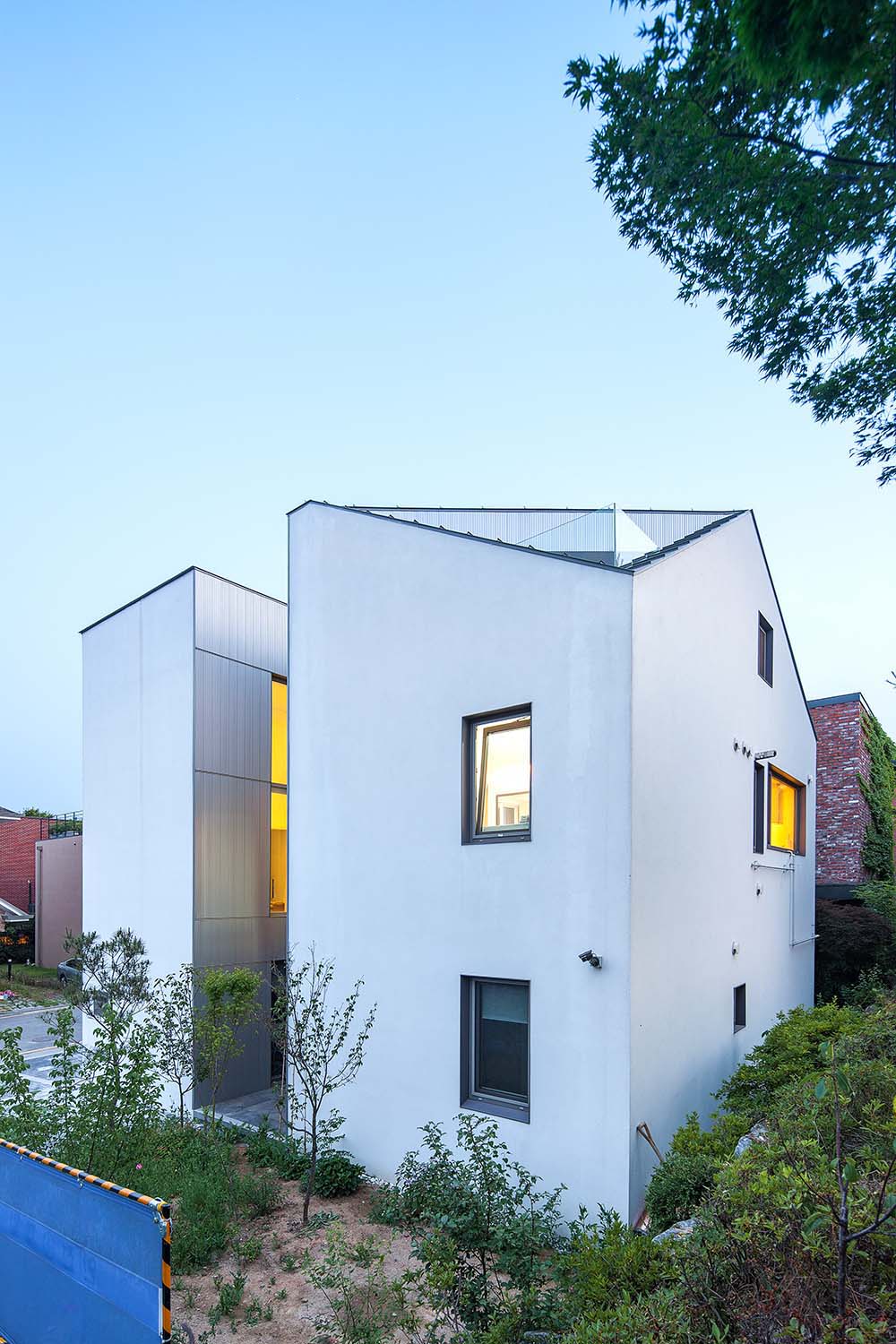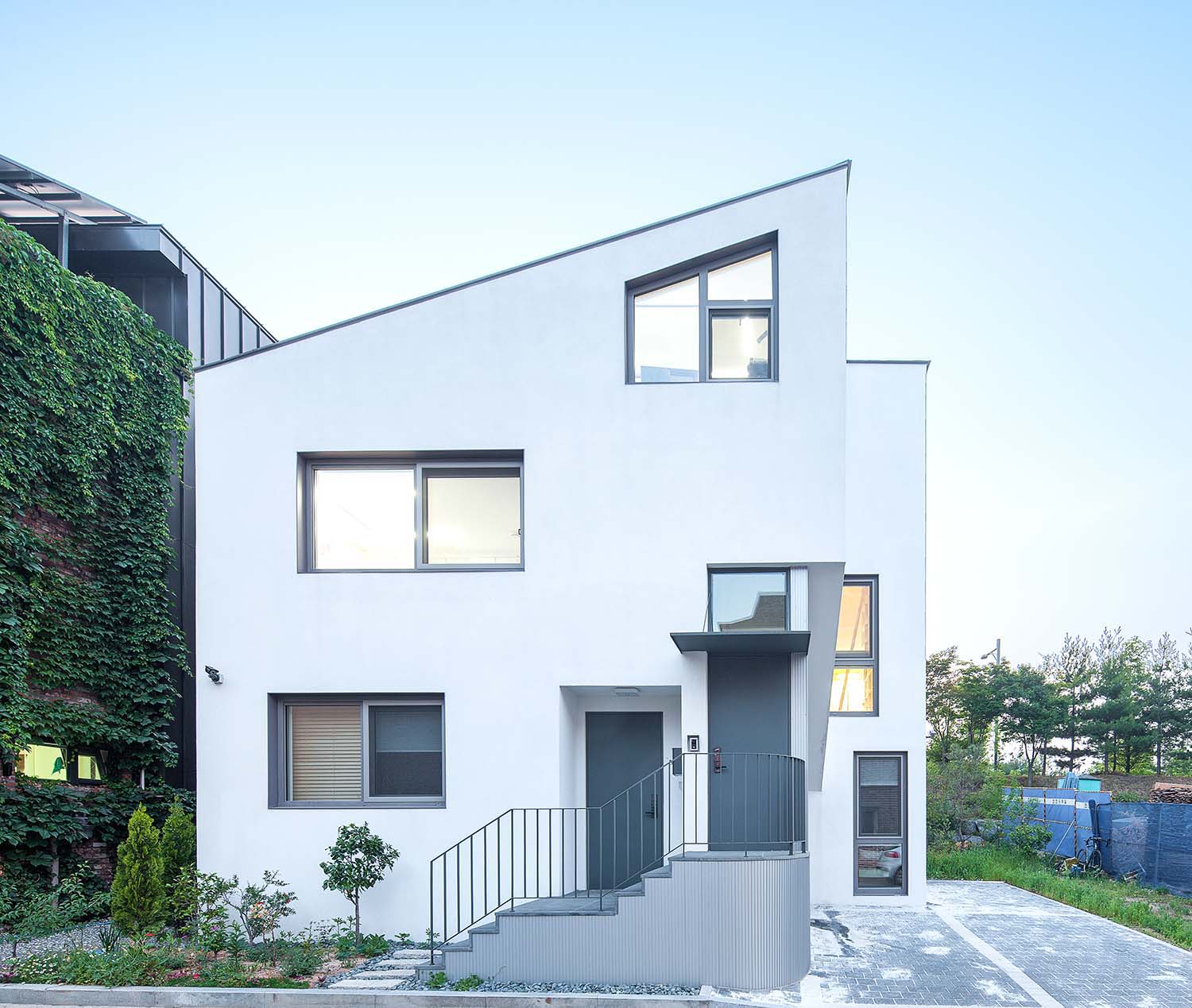 내부로 확장하는 집
건축주는 프라이버시를 중요시하고 옥외활동은 최소화하기를 원했다. 우리는 이러한 건축주의 성향을 반영해 대지 내에서 최대한의 볼륨을 설정하고, 내부를 향해 공간을 만들어나가는 '내부로 확장하는(In-panded)' 집을 계획하고자 했고, 이를 위해 다음과 같은 디자인 프로세스를 거쳤다.
평면적, 수직적으로 최대로 가능한 볼륨을 설정한다.
전면에 차량 3대의 주차공간을 확보하고, 긴 매스의 가운데 부분으로 빛을 들이는 중정을 만들면서 60%의 건폐율을 만족하는 F자 평면을 계획한다.
각 세대당 침실 3개와 거실, 주방을 배치해 최대한 연면적을 확보한다.
2층 주인세대는 다락이 있는 옥탑층까지 두 개층 높이의 볼륨을 가지되, 필요하지 않은 부분은 옥상정원으로 활용한다.
다락의 가중평균높이를 확보하기 위해 지붕면 일부를 경사면으로 만들되, 평지붕과 경사지붕이 연속성을 가지도록 한다.
이러한 디자인 프로세스는 최대한의 볼륨과 단순한 박스 형태에서 출발하여 건폐율, 용적률, 주차, 중정, 다락, 옥상정원 등을 확보하고, 볼륨을 밀어 넣고 바닥면을 추가하며 보이드를 만들어 가는 등 내, 외부의 다양한 조건을 수용하며 '안으로 확장한' 결과다. 
외피는 건물이 한 덩어리처럼 표현될 수 있는 외단열마감 시스템을 적용하고, 경사가 있는 지붕면과 중정, 옥상정원은 물처리와 반사광을 이용한 채광을 위해 알루미늄 판넬로 마감했다.
The client brief is about a privacy less exposed from the street side and a control of daylighting that differs with each room. Outdoor activities are to be designed to minimum expect to meet practical needs like AC outdoor units or to allow indirect lighting to the attic floors. More emphasis is to be put on the size of the child's room of the south rather than the entrance area. The 2nd and the attic floors are the living space for the family and thus, to have the connectivity visually and physically. 
We characterized K&L House as "in-panded." From the most far stretched building footprint possible, it expands towards inside. The footprint is pressed inwards to reduce the areas and achieve the allowable covered area ratio, creating a front yard for parking lots, a courtyard and roof gardens along the perimeter. Inside, the voids are created in the relevant or effective positions. The corner of the attic is sloped downwards to meet the height requirement.
As a result, the building form is achieved with its unique spatial experience with respect to the relationship between inside and outside, visual privacy, views and daylighting, etc. However, its perimeter as the starting point of topological transformation is maintained with the continuous roof surface cladded with the aluminium panels whilst the monolithic form is finished with the render.